Meet Victoria. And a Couple of Her Admirers.
She's just one of the many characters you'll meet in the world of DINO-PIRATES OF NINJA ISLAND. Receive my monthly "story-letter" to keep up on her adventures!
Enter a World Beyond Imagination!
Where evil sorcerers hide in ancient jungle-choked ruins, where gargantuan predators threaten life at every turn, where ninja clans guard their deadly secrets and pirate captains duel for jewels and honour, where fallen empires and lost secrets promise riches beyond belief...
My name is Corey Reid and I write tales of wild pulp adventure, of men and women fighting cruelty and savagery with their fists, their swords and sometimes their sheer will alone. Tales as wild and savage as the fantasy world they take place in. You probably already know if you're going to like my stories or not, which means if you've read this far, you should probably sign up for my monthly "story-letter".
Get Your Recommended Pulp Dosage!
Every month I'll send you a "story-letter": a short dose of madcap pulp adventure straight to your inbox. Sometimes it'll be a brief story, sometimes a traveller's journal on some exotic island, or maybe a startling bit of fantastic art oozing thrills and chills. You'll get to know heroes and villains, secret societies and doughty comrades.
You'll get deals on my books and ongoing series, get to vote on upcoming story developments and we'll even arrange get-togethers at events all over the place. DINO-PIRATES OF NINJA ISLAND is an open, collaborative setting so you'll be able to use this stuff for your own purposes. Whether you like to tell your own stories, or want to share memorable island destinations from your imagination, you'll find a growing community of pulp-loving folks!
Join Us For Great Stuff Like THIS:
And More. Much, Much More.
This story-letter is going to be your favourite email every month!
Meet Your Heroes!
Here are some of the characters and stories you'll get to know through my monthly "story-letter":
Eri
and
Millicent
are part of a group of young ninjas, banished from their clans for poor discipline and bad attitudes, stuck in the toughest, roughest school anywhere -- The Ninja Island Correctional Academy! REFORM SCHOOL NINJA GIRLS is a fantastic comic book available online at Comixology.
Captain Li Ying
sails a ship full of demons, hungry for the souls of the wicked! Her father told her how to keep the demons controlled, but it's the things he DIDN'T tell her that are really causing trouble. Now she struggles with the suave
Arunza
and the sinister
Lord Evanisk
for control of this terrifying legacy. THE SEVENTEEN EYES OF JUSTICE is an online fiction series -- sign up and read Episode One for free!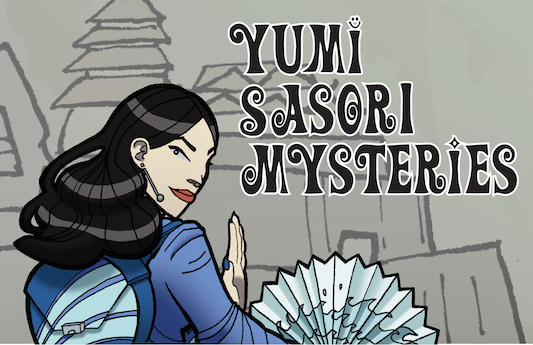 Teen Detective Yumi Sasori is on the case! Life in the spooky ghost city of Kimurachi Temple is full of demons and spirits and monsters, but Yumi knows no fear! Even when maybe she should. There's always something scary going on at school, and it always seems to be Yumi who has to figure it out and save the day!
Get All These Great Stories In Your Inbox!